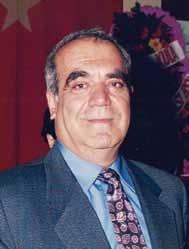 HICRI ERCILI
(1941-2004)
Hicri Ercili was born in Bandırma, in 1941. His business story shows similarity with many businessman in same time. In 1970s, when he decided to get a start in business life, economy at the time was under the influence of "inflation" and "foreign currency bottleneck".
He founded business of auto spare parts and chemical transportation without big funds, solely with his gained experience, vision, solid business idea, tenacity and patience.
After 1980, the global economy followed by Turkey affected the business strategy of Hicri Ercili closely. It was the time to be developed with suitable model for global economy requirements.
In 1999, company management was succeeded by Hicri Ercili to his son Murat Ercili. He testified the successes of company and its developments which was founded by himself.
Hicri Ercili deceased in 2004.
His ideas and remarks lead to self-improvements of our employees from past to today.